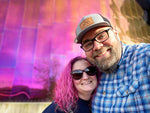 It's Adam + Sherri
HELLO, FRIENDS.
Hi, we're Adam & Sherri Legg, content creators from Anchorage, Alaska! 

Our goal is to create fun, inspiring, family-friendly content that connects with people in encouraging and authentic ways. We share videos of our lives on YouTube to thousands of people each week, snapshots of our lives on Instagram and Facebook, and conversations about things that matter to us on our weekly LeggLife Podcast.

Over the past 8 years we've been able to build an amazing online community with some of the most supportive and encouraging people you could imagine! From exploring museums in Paris, France; to relaxing aboard a cruise in the Bahamas; or enjoying life here in our home state of Alaska, we hope that LeggLife inspires you to travel more and spread kindness!


discover more on youtube